Heshe Key Case Wallet Review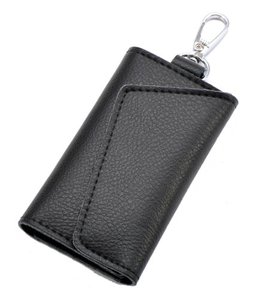 Here is a list of Pros and Cons to consider before purchasing
Double Snaps
6 Key Clips
16 Colors
Genuine Leather
1 Card and Cash Pocket
Review
The Heshe keyring wallet is the most affordable model we reviewed with the most color options available. What we like about the keyring wallet design is that you can clip it to your belt or bag or even your clothes. It's perfect for work or jogging. And with the two snaps on the Heshe, you can rest assured that your keyring wallet won't come open when you're walking or jogging around with it.
Like the Rustic Town key holder wallet, we have to give the Heshe model a demerit for not using the most authentic leathering processes. Economically, we understand that the smaller pieces of hide are less expensive to source and so necessary to use when crafting a low-price item. But it does make for a more artificial leather product, which bears mentioning for the discerning consumer.
The second drawback to the Heshe keyring wallet is that only includes 1 inner pocket for a credit card, ID, or paper money. This is adequate for running to the gym or jogging around the block, but you'll definitely need another primary wallet for everyday use. It holds 6 keys, the same as the Rustic Town option, and the hooks are a little more durable though not quite as strong as the Ikepod hardware.
The Heshe is also a little larger than we would prefer. It is as large as a smartphone, not something you want to put in your front pocket along with anything else. It would be best to utilize the clip if you are purchasing this type of wallet over a design similar to the Rustic Town or Ikepod. The clip allows you to free up pocket space while keeping your keys organized and near at hand.
On the plus side, the Heshe keyring wallet provides the most color options ranging from black and brown to rose and violet, 16 total variations. With so many options, you're certain to find one that appeals to you. Purchase two different colors to separate your work and home keys.
We recommend the Heshe keyring wallet for secure portability, color range, and affordability.