Ikepod Trifold Key Wallet Review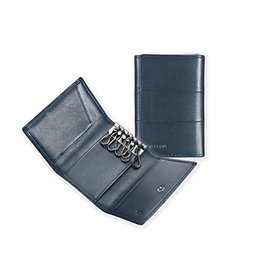 Here is a list of Pros and Cons to consider before purchasing
Snap-lock
6 Key Clips
3 card and cash pockets
RFID/NFC blocking mesh
2-year warranty
Gift box
Vegetable-tanned Leather
1 Color available (blue)
Review
A little pricier but still affordable, the Ikepod leather key case holder is an upgrade in durability and a downgrade in size. It is made from full grain cowhide. Full-grain is the absolute most authentic, strongest leather. It preserves the natural texture and resiliency of the animal's hide, strengthened by the leathering process. Though tanned, the grain has not been tampered with, so you will be able to see variations in pattern and possible markings from the cow itself.
The only downfall to the leather is that it was tanned using plant matter. That means that you don't want to get it wet or spots will form on the leather. They might fade somewhat but will always be visible. In other words, don't take a bath with this leather key case, leave it out in the rain, or spill your drink on it.
The hooks are very strong and durable. It also provides three pockets for cards or cash. Again, these pockets are not large enough to hold more than 1 or 2 plastic cards. The key wallet is meant to carry only your essentials while you're at work or exercising, not your everyday needs for running errands or going out. While some people have the art of minimalism, most users will still keep a key wallet in addition to a bi-fold or credit card wallet.
But speaking of minimalism, the Ikepod leather key case is your front pocket model. It is small and slim, about the size of a cellphone screen, so you won't have any problem carrying it anywhere you want to.
For security, Ikepod has added an RFID/NFC blocking mesh lining the inside of the case. This prevents identity thieves from scanning the magnetically coded information from any cards that you do place in your key wallet. Identity theft has hit its maximum bubble size, and now ID theft prevention is catching up. Protect yourself from online hackers and in-person scanners.
The snap-lock is also sturdy and reliable, so you won't need to worry about the covers coming open in your pocket, bag, or purse. And the Ikepod key case is guaranteed by a 2-year warranty.
The only downfall to the Ikepod key wallet is the color availability. While the dark blue is an attractive choice, many people will prefer black or brown leather. At the same time, you could opt for the blue leather Ikepod as a way to distinguish your key case from your more traditionally-colored wallet.
The Ikepod key case also comes with a gift pouch for easy wrapping or gift-giving.
For durability, capacity, and size, the Ikepod ranks well, but we don't believe the extra price provides 2.5 times more value.