Rustic Town Key Holder Wallet Review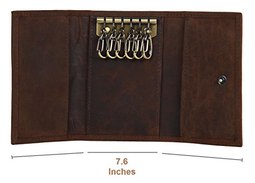 Here is a list of Pros and Cons to consider before purchasing
Snap-lock
6 Key Clips
3 card and cash pockets
4 colors available on Amazon
Gift box
Genuine leather
Hook durability
Review
The Rustic Town key wallet is a very fashionable option. It is a trifold wallet holding 6 keys in the center with two cover flaps with pockets for your bill, credit cards, work badges, or ID. There is also a third pocket behind the keys in the center section. Each pocket only holds the equivalent of 1-2 credit cards, but since this is not a traditional or credit card wallet, this is ample room to place what you need with your keys.
The two covers snap securely to keep your keys and other contents in place. The key hooks, on the other hand, are not as secure as we would like. The company is upgrading their hardware, but for now, the hooks are a little too weak and won't stand rough usage. When you use a Rustic Town key wallet, try not to hold the wallet by one hook. Pull up the key that you want to use and hold the entire wallet in your hand while you turn the key. This puts less stress on the metal hook and will ensure a longer-lasting key wallet purchase.
Speaking of durability, we gave the leather a negative rating simply because it is "genuine" leather. This means that it is not the most authentic in style. Genuine leather is leather, but it the smaller pieces of hide that have been processed to remove the animal's natural skin grain. It is then imprinted with an artificial stamp to give it the appearance of animal grain. If you're not a leather snob, you won't mind, but it is something to point out for those who appreciate more authentic leather than the genuine terminology implies.
The final adverse feature of the Rustic Town key wallet regards more of a style and usage preference. It is a bit larger than the other two models we reviewed and would only be suitable for placing in your back pocket, shirt pocket, or a bag. This is not a front pocket key wallet. It is larger than a standard smartphone. If you're looking for a smaller model, we recommend the Ikepod or the Heshe keyring design.
The Rustic Town key case is available in four stylish colors (black, brown, evening blue, moss green) with a fashionable logo and appealing gift box.
If you do not mind the larger size, the Rustic Town is an attractive leather key case with ample key and card capacity. It would make an affordable purchase or gift for the user who doesn't need to play rough with their key wallet.