JML Leatherwork's Money Clip Wallet Review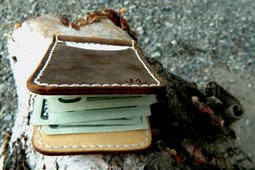 Here is a list of Pros and Cons to consider before purchasing
Full-grain leather
Pigskin lining
Hand-made
Custom orders
Lifetime guarantee
2-3 Weeks processing and shipping
No ID window
Exterior card pockets only
Review
Made in Alaska by the industrious Jake Leahy, this money clip bifold wallet uses top of the line materials in a distinctive hand-made style.
The leather is full-grain, which means it is the most authentic type of leather available. Preserving the natural stippling, markings, and color variations from the animal and made from one piece of hide, full-grain leather is fashionable and resilient. It does not stretch or wear as "genuine" leather will.
The clip is made from brass, and both the clip and spring are strong and durable. You can store about 20 bills in the clip with the wallet still being able to close flat. The clip's attachment to the wallet is solid, and the clip won't loosen up on you over time as other models will. The lining is pigskin for a softer, more durable interior than fabric, and the stitching is a polyester thread, so you won't need to worry about this wallet coming apart on you.
Speaking of the thread, the white stitching provides a very distinctive look to this bifold. It is the key feature that advertises it to be hand-made. We find it to be ruggedly charming. But it might not be the style every man is looking for. With its crafty, home-made appearance, it might not quite fit with your more modern style.
Two exterior pockets, one on the front and one on the back, comfortably hold 4 plastic cards each. Holding 8 cards total is a fair amount, but there is no ID window in this wallet, so you need to account for your ID, work badge, credit and bank cards, store and gym cards, insurance card, etc. all fitting in those two pockets. With no quick-access or single-slot pockets, you also need to flip through each card in the pocket to pull the one you want.
Because this bifold wallet with money clip is hand-made, it can also be custom-made. When you order, you can choose from 4 different colors: Spruce Bark, Natural Oil Tan, Night Black, or Dark Oak Brown. And you can request personalized lettering, perfect for gift-giving, or ask that one or both of the exterior pockets be left off if you want.
The only problem with custom-made is the wait time. He stays busy and is usually able to fulfill orders in less than 3 weeks, but this might be a little longer than you want to wait if you need a new wallet. Jake also guarantees his work with a lifetime warranty. If it does start to fail, he'll repair it free of charge, but you have to ship it to him and wait for the return.
We recommend JML Leatherworks bifold wallet with money clip for durability and customization at an affordable price.