Reviewed by: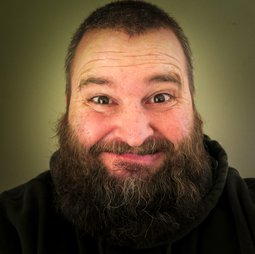 Trevor
---
Originally Posted:

---
Last Updated:

---
Specs
Rating:
4.6 out of 5
Build Quality:
Build quality is very high, I really like the blended edges, but one of the pockets wasn't straight.
Card Capacity:
7
Cash Capacity:
13
Leather Quality:
Very nice Full grain leather, thick to prevent wear, my favorite of all the wallets tested.
Packaging:
Plain black box, no brand markings on box.
Size:
4 3/8 X 2 7/8
Stitching Quality:
Very good nylon based stitching
Warranty:
100 Year Warranty, see review below for details
Weight:
75g
Warranty:
100 Year Warranty, see review below for details
Hanks Belts Money Clip Cardholder Review
Here is a list of Pros and Cons to consider before purchasing
Handmade in the USA
Full Grain Leather
Nylon Stitching
High-quality Construction
Limited colors and availability
Fairly Expensive
No RFID Protection
Review
The Hanks Belts money clip credit card holder is a high-quality, higher-priced option. The leather is full-grain, meaning it is the highest quality, most authentic leather made. It is processed in full pieces of top-layer animal hide, not manufactured and pressed from lower layers as "genuine" leather is, or from scraps as "bonded" leather is.
Hanks Belts are USA proud, having started in 1949 as an Army/Navy store. Approaching their 70th year in business, they feel confident enough in their business and their products to offer a 100-year warranty that you can even pass on to your grandchildren! The replacement warranty covers cracks, breaks, and stretching of the leather. With high-quality leather being used carefully, however, this type of wear won't be an issue. The warranty does not cover the more likely scenarios of running your wallet through the wash or your dog getting a hold of it and using it as a chew toy.
The leather is goatskin, which does nothing special for durability or style, but it is much softer to the touch than cowhide. This shouldn't make your decision for you, but you will feel the difference every time you reach for your wallet.
The leather wears well when scratched and the dye reveals very little color change. The leather layers blend well together and have been cut to lay smoothly along the pocket edges. The double-stitched nylon thread construction ensures that the construction will last nearly as long as the leather itself. Unfortunately, there is some deviation in craftsmanship. Not all of the cuts are uniform and you might notice some uneven lines in the tops of the card slots, meaning that they won't be exactly level or parallel with each other.
The Hanks is a little heavier than the other options we're reviewing in this category, but shouldn't be too much of an issue. In fact, the weight shows that the leather is thicker than some of the other models, adding to its durability.
The double magnetic clip holds your bills securely in place but comes at the expense of possibly erasing magnetized coding. The magnets can corrupt the magnetic strips on some key cards and credit cards. The leather material should be thick enough to shield the cards, but the problem is common, especially with non-permanent coding - such as on hotel keycards. The clip and magnet holds about 13 bills, an adequate amount for most days. If you find yourself needing to carry more cash or multiple small bills, this money clip might not be the most convenient solution for you.
With highly convenient slots and room for 6-7 cards, this leather money clip card holder boasts higher than average capacity in this area as well. After a month or so, you might be able to fit another 1-2 cards in the slots as the leather stretches a bit.
Note that compared to some of the other leather money clip cardholders, the Hanks Belts design does not provide RFID protection.
The wallet is stylish in sleek black and fits any man's personal tastes. Unfortunately, it is only currently available in black.
It does come with a standard gift box, but the box is plain black with no logo or print designs, so it does not make for a particularly fashionable presentation.
With the highest grade leather and an adequate capacity for bills and cards at a higher-level price, the Hanks Belts leather money clip and card holder is certainly a contender for our top spot. The only questionable features are the possible errors in craftsmanship, the lack of RFID protection, the limited color selection, and the plain gift box. It is a high-quality leather wallet, but comes at a higher price than some of the other options.