LeatherBoss Bifold Insert Review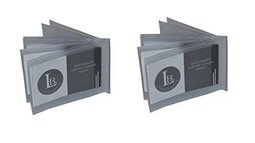 Review
For smaller wallets or wallets with a single fold, these LeatherBoss inserts are the best you'll find. The plastic is not incredibly durable so avoid pulling cards in and out of these sleeves. Business cards, infrequent store cards, IDs, or photos would be best. If they do rip, your purchase comes with two sets, so you can easily replace the wallets inserts when the time comes.
With LeatherBoss inserts, you do get double-sided sleeves, which is a big plus in our book. With a booklet of 6 sleeves, you're gaining the capability to store 12 cards or photos. The sleeves your items securely but aren't too tight to fit two cards back to back.
The LeatherBoss provides 12 pockets and a backup sleeve set, well worth the additional carrying capacity in your wallet.