Marshal Wallet Trifold Insert Review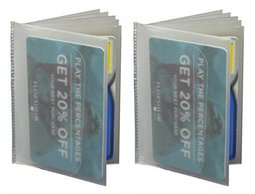 Review
For the most traditional if no longer quite as popular two-fold wallet, or three-section wallet, LeatherBoss again comes in tops for their affordable, high-quality plastic. Because the thin plastic used for clear inserts of this type is not thick enough to provide overwhelming durability, LB provides a replacement sleeve set with your purchase. Insert the first into your wallet now and replace them in a couple of years if you need to.
In all fairness, these plastic inserts should last quite a while under normal use. If you are not constantly removing cards or photos from the sleeves, they won't tear away at the seams or stretch beyond secure use.
With the ability to place two cards in one sleeve, these plastic wallet inserts triple or quadruple the carrying capacity of 4 to 6 pocket tri-fold wallets. Going from 6 six slots to 18, or 4 to 16 is a useful jump in capacity and organization for anyone needing to carry more in their wallet.
For the capacity and backup sleeve LeatherBoss provides the best value for wallet inserts in this style.