KEC Leathershop VERTIC Bifold Wallet Review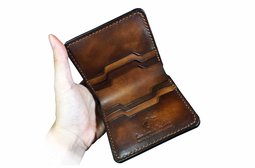 Here is a list of Pros and Cons to consider before purchasing
Hand-made
Personalization Options
3-5 week processing and shipping time
Relatively expensive
Review
Crafted by two Vietnamese designers in Ho Chi Minh City, the Vertic is the most vertical bifold wallet you can buy. It opens vertically and has 6 total card slots: 3 on the bottom interior, 3 on the top. The cash pocket opens on the right side and runs the length of the wallet. It is a very simple, stylish design small enough to fit in your front pocket.
It does not have an ID window or receipt pockets like some of the other models do, but the capacity is adequate for most men. You can double up in the card pockets if you need to and place any receipts you need to keep with your bills in the cash pocket.
Unfortunately, the quality of the leather is rather low. It is genuine leather. Marketed as a positive with its "genuine" appellative, this is third-tier material. It is the lower layers of the animal's hide. At this point in the layering, there is no stippling texture from the animal's hide, no markings, and no natural resiliency. The leather is soft and flexible (seen as a positive) but will stretch and wear out faster than higher layer leather. You can expect a full-grain leather wallet, for example, to last 100 years. A genuine leather product will show visible damage in 3-5 years.
The second downfall of the Vertic's leather is the vegetable tanning process. While more environmentally-friendly, plant-based tannins are not consumer-friendly. If you get this leather wet, it will discolor with watermark spotting. If you dry it fast enough, you can prevent the spotting. Just don't any liquid soak into the leather.
KEC's vertical wallet is hand-made, and you can request that your name, initials, or a short phrase be added to the wallet's cover. You can also choose between five colors.
Black
Dark brown
Light brown
Mahogany
Ocean blue
If you do want to order the Vertic vertical bifold wallet, be sure to leave ample time for crafting and shipping. These ladies work fast, but it could take up to a week to make your wallet. It will then take 2-4 weeks to ship it from Vietnam.
The price is affordable considering it is a hand-made product. However, genuine leather is very inexpensive. Most companies who use genuine leather do so to offer the consumer a reduced-price product over their competitors. We don't see the reduction in material cost being passed on to the consumer in KEC's pricing.
Ultimately, we recommend the KEC Vertic vertical wallet for unique design and exemplary vertical layout.