Kinzd Vertical Bifold Wallet Review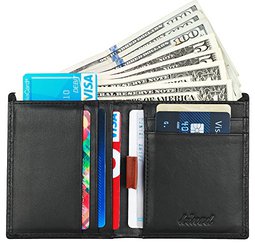 Here is a list of Pros and Cons to consider before purchasing
Coin/key pocket
SIM/Micro SD pocket
RFID Blocking
Relatively inexpensive
Genuine leather
Durability issues due to the thin leather
Review
Eminently versatile and low-priced, the Kinzd vertical bifold wallet only falls short in leather quality.
Here we have the same third-tier genuine leather as the KEC Vertic but a more reasonable price. Kinzd has also used a more advanced tanning process that won't cause spotting from water absorption. Note, however, that the company only guarantees their product for 6 months. We expect it to last longer than that, but you might start to see some cracking in the leather within the first year. Because it is genuine leather, you will probably want to replace it within 5 years.
The appeal of this vertical leather wallet is its capacity and versatile layout. It features 2 vertical card slots on the right interior, 2 horizontal card pockets on the left, and a receipt pocket large enough for additional cards beneath the slots on both the right and the left. There is also a pull-tab on the right receipt pocket for easier retrieval. As there are ample card pockets, we don't mind the pull-tab on this model as much as we did on the Bellroy.
Inside the cash pocket, there are 2 more specialty pockets. In the front left liner of the cash pocket is an opening you can use for coins, keys, or additional cards. In the rear right liner is a small pocket for a SIM or Micro SD storage device. These specialty pockets do not zip, button, or fold over, but are deep enough to secure your items in place if the wallet is help right side up.
The entire wallet is lined with an RFID/NFC blocking mesh to help prevent identity theft through the material of your wallet. Without this material, it would be possible for thieves to subtly scan your cards and make unauthorized purchases without your knowledge.
Unfortunately, this is another vertical leather wallet that is only available in black.
We recommend the Kinzd vertical bifold wallet for versatility, capacity, and low price.