Reviewed by: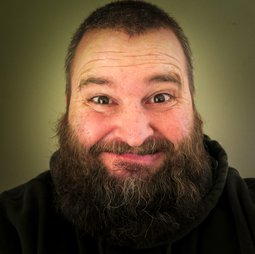 Trevor
---
Originally Posted:

---
Last Updated:

---
Specs
Rating:
4.4 out of 5
Carrying Capacity:
No pockets, up to 10 cards.
Notable Features:
Reversible, RFID blocking
Size:
3.6" X 2.1"
Warranty:
One year against manufacturing defects - normal wear-and-tear and natural variation in leather do not qualify as defects. Link
Distil Union Wally Micro Review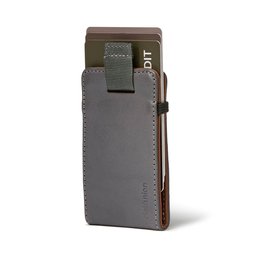 Here is a list of Pros and Cons to consider before purchasing
Full-grain leather
Holds 10 cards
Reversible color combination
Elastic band
No cash pocket
No ID window
Review
The Distil Union model is an innovative credit card wallet for men. It is a simple design made from full grain leather and an elastic band. There are no individual pockets. The leather encloses your cards, ID, and cash with the band securing everything in place. You can also slide a card or bills under the elastic on the outside of the wallet for quicker retrieval.
The primary selling point of this model for us is the reversible full grain leather. They have sourced the highest quality leather available, sewn two colors together, and designed the wallet so simply that you can flip it inside out for a change in style. And even though it uses double the amount of leather, it is still slim enough to fit comfortably in your front pocket.
The elastic stretches to hold 10 cards and a couple of bills, or more bills and fewer cards, depending on your need. We like the capacity. But because it is such a simple design with everything essentially in one pocket, we have to question the convenience. You can place your 4 most-used cards or ID on the outside and outer-facing inner pocket, but then you have to flip through the middle cards to find a less frequent item. There is also no separate pocket for cash, so you have to fold your bills and slide them under the elastic with everything else. And with no ID pocket, you have to take up one of those four most-used locations with your driver's license, work badge, or both. It's not an unworkable set-up, but might not be the best for some users.
There is a pull tab to reveal the cards without opening the sleeve. It's a neat design feature but doesn't add much to convenience. You still need to open the wallet to replace the card or cash most easily.
The elastic band is the weak point of this Distil Union model. It will not tighten to hold fewer than 7 cards securely, and if any of your cards have rough edges, they will snag the elastic, and the band will start to fray. You also want to be careful not to pull on the band or overstuff it to avoid permanently stretching it out.
Distil Union was founded in 2011 by a pair of designers who built their career creating accessories for cell phones and tablets, and they have done a wonderful job with this wallet in terms of fashion and innovation.
You can purchase the Distill Union wallet in black/gray, gray/brown, and gray/red color combinations and they guarantee construction with a 1-year warranty.
If you are looking for a mix of fashion, capacity, and affordability with top-grade leather, Distil Union could be your answer.