Reviewed by: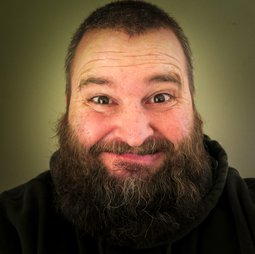 Trevor
---
Originally Posted:

---
Last Updated:

---
Specs
Rating:
4.2 out of 5
Carrying Capacity:
6 card pockets and two ID windows with thumb hole
Notable Features:
Bifold card wallet, Two ID windows
Size:
4 1/8" X 2 7/8"
Warranty:
Listing states "2 Years Warranty", but I could not find a website or contact information for them. Link
GintaXen Bifold Card Holder Review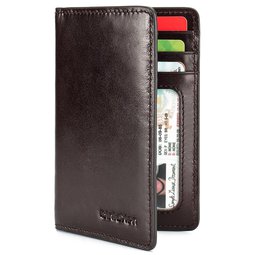 Here is a list of Pros and Cons to consider before purchasing
Top grain leather
2 ID windows
RFID blocking
Bifold design
A bit bulky for a cardholder
Review
In the same price class as the Mutbak, the GintaXen leather quality takes a step down from the Mutbak, but it offers higher capacity and more color options.
Top grain leather is more uniform but not as authentic looking as full grain leather. It is hide that has been sanded and buffed to remove the natural stippling, color variations, and "imperfections" in an animal's hide. It is then stamped to imprint the leather with an artificial hide texture. This might not matter to you, and you might prefer the uniform appearance. What you will care about is the degradation in leather this process causes. More processing means less durability and more stretching over time.
Still, top grain leather is the second highest grade of leather you can buy, so in general this shouldn't deter you if you like the rest of the item's features.
With no slots or windows on the outside, the wallet opens like a book to reveal 2 ID windows and 4 card slots. If you don't need two ID windows, let the second serve as a fifth card slot or photo window. The 4-5 card slots are ample for most men's daily use, and by placing the ID windows on the interior, GintaXen has reduced much of the danger of the plastic wearing out prematurely.
This model also includes two pockets for cash or receipts. The pockets under the card and ID slots can comfortably fit 5 folded bills each. If you don't need both pockets, place a couple more membership cards in one of them for even more card-carrying capacity.
There are no slots on the exterior of the wallet for style and security. It provides a different, more streamlined appeal for those who would prefer a smooth surface. And because they have included RFID blocking mesh lining the wallet, they have enclosed everything between its covers.
You can purchase the GintaXen in traditional black or coffee, or, if you need a little more color in your life, go for the pink or purple variations.
The wallet states that it is backed by a 2-year warranty, but during my research I was unable to find a website for the GintaXen. I am a little hesitant as I am not sure how to contact them in the event the wallet fails. And as a lesser-known leather dealer, the extended warranty provides more peace of mind when making an initial purchase from this brand.
We're rating the GintaXen as one of the runner-up design because of its slim and convenient design, ample card slots, and affordable price. It is a solid choice for anyone who doesn't mind the slight reduction in leather quality.