Reviewed by: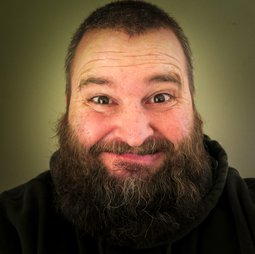 Trevor
---
Originally Posted:

---
Last Updated:

---
Specs
Rating:
3.5 out of 5
Carrying Capacity:
1 card pocket
Notable Features:
Polycarbonate shell
Size:
3.5" X 2"
Warranty:
One year manufacturing warranty covering manufacturing defects, "Damages due to normal wear and tear, such as rips, tears, abrasions, UV degradation, misuse, neglect, or natural breakdown of materials over time, are not covered under this warranty." Link
Radix One Slim Wallet Review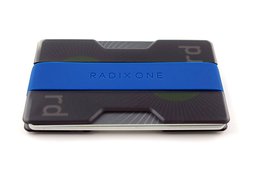 Here is a list of Pros and Cons to consider before purchasing
Polycarbonate sleeve
Holds up to 10 cards or cash equivalent
Silicone band
No separate cash pocket
No ID window
Moderately inconvenient
Review
Coming in at the lowest price on our list, the Radix One is an innovative, stylish choice for the modern man. It is very similar to the Distil Union wallet, but instead of leather, it uses a polycarbonate shell. It sounds uncomfortable for a front wallet but is smaller than popular smartphones and that much more discreet in your pocket.
The polycarbonate shell is amazingly light and durable. You could scuff it if you're not careful with what else you put in your pocket or if you drop it, but it won't break. The weak point is the silicone band holding the shell together and securing its contents. While not as susceptible to wear as the Distil Union's elastic band, the Radix One's silicone will stretch over time. It's also much more likely to be cut or gouged when treated roughly.
On the plus side, you'll never need to worry about water damage with these two materials. Take them swimming with you, and if you don't mind wet cards or cash, you won't have a problem. It's also inexpensive enough that if the band does stretch or break, you can replace the wallet at the same low price. If you have a problem within the first year, the company will replace the wallet with your choice of colors at no cost.
The largest drawback to this wallet is convenience. The unit is meant to open to retrieve your cards or cash, so you have to stick your cash or quick-draw cards on the top or bottom of the stack, or between the band and the outside shell. If you need to find a less-used card, you'll need to pull them all out to flip through them.
There is also no separate ID window or cash pocket. Everything is placed together between the shells. And while usually not a problem, you have to be careful to insert 4 or more cards (or the equivalent thickness in cash) to keep the band tight enough to secure the shell and contents. Any less and the package becomes too loose, and items slip out.
The capacity is perfect; the convenience is a little lacking but is worth it if you enjoy its non-traditional style. The Radix One is available in 6 color combinations:
Black shell with black band
Black shell with red band
Smoke shell with black band
Smoke shell with cyan band
Smoke shell with dark blue band
White shell with gray band
For the low price, unique design, high card-carrying capacity, and durable shell, the Radix One is a pretty cool wallet to experiment with.