Reviewed by: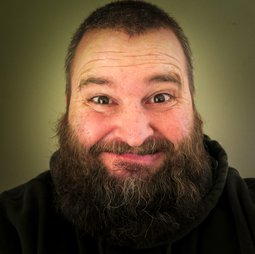 Trevor
---
Originally Posted:

---
Last Updated:

---
Specs
Rating:
4.6 out of 5
Carrying Capacity:
3 Card Pockets, 1 ID window
Notable Features:
No plastic for the ID window, Full grain leather
Size:
4.2" X 3"
Warranty:
100 year warranty, does not cover normal wear and tear. Link
Saddleback Leather Credit Card Wallet Review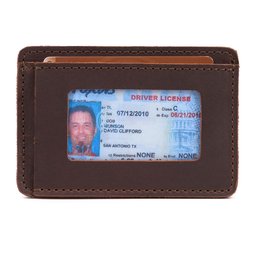 Here is a list of Pros and Cons to consider before purchasing
Full grain leather
Marine-grade thread
Pigskin lining
Rear non-plastic ID window
Review
At an affordable price, the Saddleback Leather model is a great choice. It is a traditional, stylish, durable slim credit card wallet with plenty of card-carrying capacity, modest cash-carrying capacity, and quick-to-retrieve convenience.
It is crafted from full grain cowhide leather. Full-grain means that it has not been sanded or buffed to remove the grain or imperfections from the hide. You get the natural stippled texture and any markings and color variations from the animal. Because it has not been overly treated, full-grain is the strongest, most durable leather. It will take you a little longer to break the wallet in, but it's worth it. You'll stretch the card slots and train it to fold a little better and then it won't stretch or wear out any further.
The leather, however, is tanned using plant matter. While not affecting the appearance, vegetable-tanned leather develops permanent spots when it gets wet. This discoloration is specifically excluded from the manufacturer's warranty, so be careful not to take your wallet to the beach or pull out in the rain. You can read more about their warranty policies here.
Each pocket is lined with pigskin leather rather than fabric as many wallets have and the whole package is sewn together with marine-grade polyester thread. We can confidently say that you won't have thinning pockets or snagging threads with this wallet.
And speaking of durability, we salute Saddleback for including an ID window without plastic. The plastic is the weakest material in many designs of men's wallets. It can tear or pull away from the threads binding it to the leather. This wallet allows you to show your ID or badge through an opening in the leather for the perfect combination of convenience and durability.
There is a fold with three card slots on the exterior and six inside, abundant room for all of your membership cards and credit cards. Like a traditional wallet, there is a middle pocket for cash or receipts. You'll have to fold your bills to fit in the pocket. Though not ideal, you won't find a space-saving wallet that opens as wide as paper money. With the traditional bi-fold design, you can easily find any card you're looking for and open your cash pocket. Because the leather is so tight, however, you won't be able to fold and insert many bills into the pocket. The most cash you can carry with this wallet is 10 bills. Saddleback does have other options though, if you are looking for something to carry a passport as well as some cash check out our review of their passport wallet.
This wallet is backed by a 100-year warranty for material and construction defects. They've used high-grade materials and excluded water-damage from the warranty, of course, so you're very unlikely to need the warranty, but it's nice to have in case you do receive a manufacturing mishap.
You can choose from 4 attractive black or brown shades (black, dark coffee, chestnut, tobacco) fitting for traditional leather apparel and accessories.
The bottom line is if you're looking for quality leather in a credit card wallet with plenty of card slots and easy use, this is the best wallet for you.