Ben Sherman Hackney Passcase Review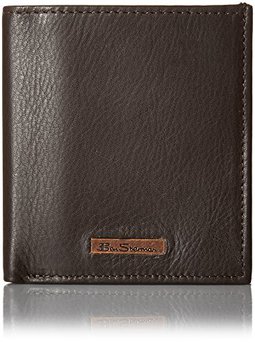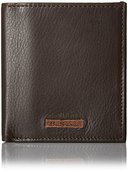 Here is a list of Pros and Cons to consider before purchasing
Full-grain leather
Bill divider
RFID blocking
Relatively inexpensive
Review
Coming in at the lowest price of our top 5 passcase wallet selections is the Ben Sherman model. Like most of the more expensive designs, it features full-grain leather, a separate cash pocket, and 6 card pockets.
Like the Mutbak Citadel, the Ben Sherman includes an RFID blocking metallic mesh liner to help prevent identity theft through your wallet's leather exterior.
The most exciting feature of this wallet is the side-folding ID flap. Rather than flipping up, it flips out. And rather than revealing card slots on the reverse side of the ID window, there is another ID window! The passcase flap is double-sided. Place your driver's license in one side and your work badge in the other. It's also more convenient to flip the passcase flap outward than up to access the 3 card slots behind it.
The Ben Sherman is simply designed with a sleek exterior for the modern man. Not too rugged, not too high-fashion, it is subtle and classy, constructed of high-grade leather. You can purchase the Ben Sherman men's passcase wallet in conventional black or brown leather.
The only design feature that some men might not find appealing is the printed fabric lining. You can take it as a bit of flair to your plain leather wallet or you can see it as being too flamboyant or feminine. It's a matter of style, not usability, so we won't give our opinion on the matter.
If you're looking for quality leather with a subtle modern flair and convenience, this is the wallet for you.