Carhartt Passcase Wallet Review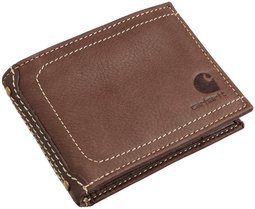 Here is a list of Pros and Cons to consider before purchasing
Full-grain leather
Bill divider
Gift tin
Carhartt brand
Zippered cash pocket
Quality issues with the stitching
Review
At the same price point and high full-grain leather quality is the Carhartt. With a brand name recognized for rugged durability and the best leather available, it's hard to argue with this wallet's value. While less than the Mutbak, it has the same capacity as the Hanks: 6 card pockets, a cash pocket, 2 receipt pockets, and a flip-up ID window.
Like the Bosca Dolce, the flap does not contain any card slots. There are 3 card pockets under the flap, and you have to flip the flap to access them. You can't get away from occasionally needing to move the flap out of the way.
The only design feature that we're not impressed with in the Carhartt is the zippered cash pocket. It's marketed as a way to keep your cash hidden. But you have to unzip the cash pocket to access your cash, right? So you will necessarily show how much you have every time you pull out your wallet to pay for something. You could use your bank or credit card and keep the zipper closed, but if you're not using cash, why carry that much cash on you? The zipper seems like a superfluous addition that will be the first piece to fail or tear the lining in an otherwise practical and well-constructed leather wallet.
The Carhartt wallet is available in traditional black or brown leather and comes in an attractive, branded gift box. If you're shopping for a man who enjoys Carhartt work apparel and needs to show their ID regularly, they'll most likely enjoy the Carhartt. In addition to this passcase design Carhartt also makes a trifold design, you can click here to read more about the trifold vertical wallet from Carhartt.
The Carhartt is ideal for durable leather, convenience, and medium card-capacity.