Bosca Dolce Collection Passcase Review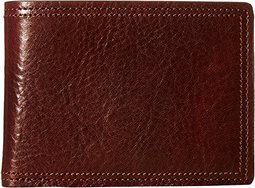 Here is a list of Pros and Cons to consider before purchasing
Bill divider
Removable ID
Italian Leather
Certified Italian Vegetable Tanned
Durability is a concern
Expensive
Review
The highly fashionable Bosca Dolce leather wallet is even pricier than the Hanks Belts design and while slightly more convenient does not measure up in quality materials.
It is made from "genuine" leather that has been processed to remove the natural grain of the animal's hide. It still has the same texture as full-grain leather, but it is artificial stippling. The original grain has been buffed out and a uniform grain stamped in. While desirable to some for the cleaned up uniform appearance, this type of processed leather is also weaker than its more authentic form. It will stretch and wear more easily. This Bosca Dolce leather wallet will show significant signs of wear and even leather cracking in as little as 3-5 years. That's a big difference compared to full-grain leather that will last for 100 years or more.
On the plus side, the Bosca Dolce is an elegant passcase wallet that looks at home in any businessman's or professional's suit pocket. It is available in 3 leather colors (black, dark brown, amber) and features a highly convenient design.
There are 2 cash pockets to separate your larger and smaller bills, or to easily keep allocated funds in their own compartment. There are also 2 more card pockets than the Hanks model, and none of them are on the back of ID window. You can show your ID with as much discretion as you want, and every card is in easy reach.
Like the Hanks, there are 2 side receipt pockets for notes or expense records. The passcase portion of the wallet is also removable. We appreciate this feature as it drastically reduces the width of the wallet when you don't need to show your ID. Put your driver's license in one of the other 8 pockets and slim your wallet down for the weekend. And if you no longer need the passcase insert on a more permanent basis, convert your wallet to a regular bifold with no surgery required.
Bosca's warranty is for 100 days, they state: "We offer you a 100% refund for up to 100 days if you are not 100% satisfied". You can read more about it here.
We recommend the Bosca Dolce for professionals who don't mind the expense of a new wallet every couple of years. Other men might find the price too steep compared to the quality of leather, and the style too high-fashion for their tastes.