Hanks Belts Deluxe Bison Bifold Review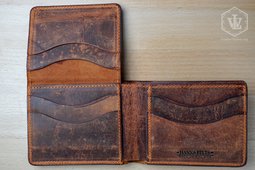 Here is a list of Pros and Cons to consider before purchasing
Full-grain leather
Nylon thread
100-year warranty
Soft Leather
Leather will gain a patina with use
A bit thick
No RFID Blocking
Review
Hanks Belts is a well-known USA-proud maker of leather belts, wallets, and apparel. They're so well know that you might have a hard time picking up one of these passcase wallets. They're frequently out of stock on Amazon, but you can still put an order in. You'll receive a high-quality full-grain leather wallet in about 3 weeks.
The full-grain cowhide is the most authentic leather available. It preserves the animal's color variations, markings, scars, and natural stippling. Every piece of full-grain leather is unique because the hide it was fashioned from was unique. And there's no stitching pieces together in a full-grain leather product. The entire wallet is cut from one piece of hide. The minimally processed leather hide is strong and durable. It won't stretch out or thin. You can break it in, but it will always hold your cards snugly.
The Hanks wallet is stitched with nylon thread, so you won't have any fraying or loose stitching on the interior. The entire product is guaranteed by Hanks' standard 100-year warranty. It doesn't cover water damage, but it does ensure a quality crafted product. They are so confident in their leather and workmanship that they claim you'll be able to pass the wallet on to your grandchildren.
It is a convenient design with a flip-up ID window. There are 2 card pockets on the underside of the flap, and 2 on either side of the folds' interior. Behind the side card pockets are 2 receipt pockets, and there is a separate cash pocket in the back. You can place 20 bills and 12 cards in this wallet and still close it flat.
Our only complaint with the design of the Hanks passcase is the placement of card pockets on the back of the flap. If you want to retrieve those cards, you have to flip the passcase out of the wallet to do, a seemingly awkward procedure. And when you hold up your ID to someone, you're also revealing those back 2 cards to anyone behind you. Card pockets on the back of the ID window in a passcase wallet defeats the dual purpose of convenience and discretion. When using this model, we recommend placing your least-used and innocuous cards in these conspicuous slots.
Hanks only comes in leather brown, and as we mentioned, you might need to put your wallet on backorder.
You're also looking at a fairly hefty price for a wallet in this model, but Hanks quality is worth the initial expenditure if you like the style.
We recommend Hanks Belts passcase for durability and rugged appeal.