Inspiring Adventures Passport Wallet Review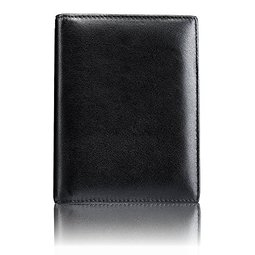 Here is a list of Pros and Cons to consider before purchasing
Space for 2 passports
Ticket pocket
RFID blocking
Gift box
Review
The Inspiring Adventures wallet inspires us with confidence in its convenience and affordability but not leather quality.
Genuine leather is nearly the most processed, weakest, least durable type of leather you can use. The only grade lower is bonded leather, which is leather scraps pressed back together to form a single piece. Genuine leather is the bottom layers of a hide. The top layers have been removed for use in higher quality products. The lower layers are not as strong and stretch out more easily. A genuine leather product might appear to have an animal texture if they've chosen to imprint a stippling effect, but it will wear much quicker than higher grade leather products. Pockets will stretch out with use and not hold your cards as tightly as they should.
The benefit of using genuine leather, however, is a much-reduced price, and it will serve its function for a reasonably long time if you don't mind some signs of wear and tear. Inspiring Adventures provides a lifetime warranty against defects. Simply keep in mind that intentional leather quality is not a defect; it's part of the design. So, normal wear and tear is not covered by the warranty. Loose threading, pockets pulling away from the lining, and other construction errors are fully guaranteed.
The Inspiring Adventures is laid vertically with a passport pocket on the right side wide enough for 2 passports, a similarly-sized notebook, or a smartphone. The left side holds 4 horizontal card slots and vertical pocket for your boarding pass or tickets. There is a separate back cash pocket for bills, receipts, or additional tickets. With such sufficient capacity, this is another wallet that you could easily continue to use for your daily wallet.
The RFID mesh inside the pocket lining helps provide peace of mind against identity theft or unauthorized credit card charges. When your cards are in their pockets, you can't use them and neither can anyone else.
You can purchase the Inspiring Adventures passport wallet in black or brown leather with an embossed "Passport" label or not. Stock does fluctuate on Amazon, but they usually replenish their supply fairly quickly. When they are available, they come packaged in a stylish gift box for easy wrapping.
Though made from lower quality leather, we recommend the Inspiring Adventures for high capacity and affordability.