Made in Mayhem Clark Passport Wallet Review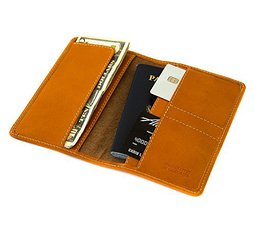 Here is a list of Pros and Cons to consider before purchasing
Full-grain leather
Suede lining
2 passport pockets
Vegetable-tanned leather may spot
Limited to 2 card pockets
Limited availability
Review
Made in Mayhem is a California-based company that offers a high-quality leather wallet with limited card capacity.
It is made from full-grain leather, the best leather that you can purchase. With full-grain leather, the top layer of the animal's hide provides the design for the wallet. You see all of the natural stippling, markings, color variations, scars, and "imperfections" from the animal. Because of the minimal processing and the use of the top layer of the hide, full-grain leather is the strongest and most durable type of leather.
Unfortunately, the tanning process is the shortfall of this leather product. Vegetable-tanned leather discolors when it gets wet. Drops of water will form permanent stains, so be sure to keep this wallet covered in your pocket when it's raining. If it does get wet, wipe it dry as quickly as possible to prevent the liquid from absorbing into the leather material.
The suede lining pocket interior is a welcome touch that adds style to the leather exterior sleeve and pocket walls.
With a vertical, open-book layout, the Made in Mayhem "Clark" passport wallet features 2 passport pockets, one on the right under the card pockets, and one on the left under the cash pocket. It closes nicely with 2 passports and provides the convenience of keeping a couple's traveling documents together in one location. If you don't have a traveling companion, leave the pocket empty for a thinner package or place your notebook or cell phone inside.
There are 2 card pockets on the right oriented horizontally. We could wish for more card-capacity, but if you're using this wallet for international travel, you probably only need to carry a secondary ID and a couple of credit cards. If you would rather use a passport case as a notebook wallet, however, you might want to choose one with more card pockets, such as the Bellroy or Travel Navigator.
The cash pocket on the right is a unique design. Rather than a horizontal fold in the rear of the wallet, it allows you to store your bills, boarding pass, tickets, or itinerary in an easily visible, quickly accessible front pocket.
Unfortunately, the Clark is frequently out of stock on Amazon, so start looking well in advance of when you need it. The pricing is a bit steep for a wallet, but specialized leather products like passport wallets do tend to be higher in price.
We recommend the Made in Mayhem Clark for durability and the front cash pocket design.