Travel Navigator Passport Wallet Review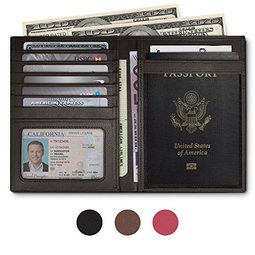 Here is a list of Pros and Cons to consider before purchasing
6 card pockets
ID Window
RFID Blocking
Genuine leather
Lots on non-leather parts that will wear out
No thumb-hole in ID Window
Review
The Travel Navigator passport wallet has it all! Except high-quality leather.
Like the slightly more expensive Inspiring Adventures model, the genuine leather of this passport design drives down its durability and price. You might decide that the low cost and convenience of this design is worth the trade-off in leather quality. We simply want to make sure you know what you're paying for. With genuine leather, you will be replacing your wallet in 3-5 years, especially if you are a frequent traveler or want to use it as an everyday accessory. The company will not be at fault for the early wear and tear. It is an attribute of the softer, weaker, looser material. Travel Navigator does guarantee their wallets against manufacturing defects with a 3-year warranty.
Durability aside, the Travel Navigator is our top choice for layout and capacity. With the open-book bifold design of most passport wallets, this model features a passport mesh pocket able to hold 2 thin passports, 6 vertical card slots, an interior ID window, 2 receipt pockets, and the standard back cash pocket for bills.
With the ID window and the 6 card slots, you have everything you need at your fingertips whether you're traveling or using the wallet for note-taking. Easily show your ID, and organize as many cards as you need each in their own slot or doubled up. Store receipts, tickets, boarding passes, or keys in the side pockets behind the passport and card slots.
The only feature you might not enjoy is the deep cash pocket. It does go all the way down the height of the wallet. You might also appreciate the deep pocket as another area to store tickets or passes without having to fold them. And while not normally a fan of plastic windows for their low durability, plastic within the fold of the wallet is much better protected than exterior windows.
All of the pockets and compartments are lined with an RFID blocking material. Your bank and credit cards will be kept safe as you travel or go about your daily life.
The Travel Navigator is available in black, brown, or pink leather, and comes packaged in an attractive gift box for you to wrap or present.
When you can let durability take a back seat to capacity, convenience, and affordability, the Travel Navigator becomes your best option.