Saddleback Leather Passport Wallet Review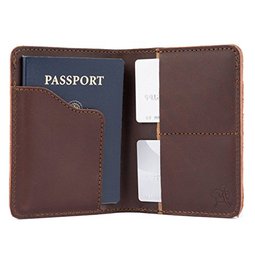 Here is a list of Pros and Cons to consider before purchasing
Full-grain leather
Marine-grade polyester thread
100-year warranty
Limited space for credit cards
Relatively expensive
Review
With the highest durability at the lowest price point and most color options, the Saddleback Leather design is a strong contender for our favorite passport wallet.
As with any full-grain leather specialty wallet, this model will still set you back a pretty penny but not quite as much as the Made in Mayhem or Bellroy.
As with all Saddleback Leather products, they back their full-grain wallet with a 100-year guarantee. And while this sounds impressive, it's unnecessary. A well-made full-grain leather product is going to stand the test of time with or without an outlandish company guarantee. The truth is we would be just as happy with a 1-3-year warranty because if you haven't uncovered a problem in the stitching or leatherwork by then, the chances are you're not going to. Besides, who wants to keep paperwork on a wallet for 100 years?
The marine-grade polyester stitching ensures that the construction of this wallet matches the quality of the leather. Even when wet, the threads won't loosen or fray.
Regarding convenience of design, however, the Saddleback lands on the side of minimalism. It will hold up to 4 passports, perfect if you're traveling with a companion or your family. The most prominent passport pocket is easily accessible on the left of the interior. The secondary passport pocket is located beneath the 2 card pockets on the right.
The 2 card pockets are the least impressive feature of this wallet. They will hold up to 5 cards each, which is certainly sufficient for traveling or everyday use. But if you only want to put 1 or 2 cards in each pocket, you'll quickly see how loose they are when not filled to capacity. The pockets are on the interior of the wallet, so loose card slots are not as much of a problem as they would be on the exterior. Still, when you're traveling, you want everything to be as secure as possible. And flipping through five cards in one slot does not make for high convenience. We would prefer fewer cards in more slots.
Like most passport wallet designs, the Saddleback Leather model includes a back cash pocket for bills, receipts, tickets, or boarding pass.
The wallet and pockets are lined with and RFID scanning preventative material. Traversing the airport or strange lands won't make you vulnerable to identity theft while your cards stay in your wallet.
The Saddleback Leather wallet is available in 4 colors on Amazon: black, dark coffee, chestnut, and tobacco.
We recommend this Saddleback Leather model for high-quality materials and craftsmanship at the lowest price point. If you want durability and don't mind the larger card slots, you're sure to appreciate this wallet.