Reviewed by: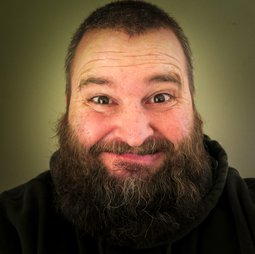 Trevor
---
Originally Posted:

---
Last Updated:

---
Specs
Rating:
4.1 out of 5
Bill Divider:
Yes
Build Quality:
A bit lacking. A few frayed ends, and no glue on inside edges.
Card Capacity:
10 Card Pockets + 1 ID Window
RFID Blocking:
13.56mHz: yes, 125kHz: no
Size:
3 5/8" X 4 5/8"
Weight:
83g
Warranty:
90 day manufacturing defects. Link
ID Stronghold Trifold Review
Here is a list of Pros and Cons to consider before purchasing
RFID Protection
Gift Box
2 Colors Available
Genuine Leather
A bit thick when folded
Warranty is a bit light
Review
Our Runner-up choice is the ID Stronghold Trifold. As you can tell by the name, this wallet heavily emphasizes its RFID blocking feature, specifying that every nook and cranny of the wallet is shielded and that the wallet is tested against the strongest possible RFID. During our testing we found that the wallet does successfully block 13.56mHz signals in all pockets, but falls short of blocking 125kHz.
It comes in black, brown and dark brown colors. Made from Genuine leather it is a step down from the Carhartt. Overall the leather is OK and there are no strong chemical oders to the wallet. The only build issue that is questionable is that the edges of the leather are not glued down. I am not sure why they chose this route. This oversight creates an issue when trying to extract cards from the inside of the inner "hidden" pockets. The cards tend to catch on the leather flaps.
When looking at the dimensions of this wallet you will probably notice that it is one of the bigger wallets in this category measuring in at about 4.5 inches vertical by 3.63 inches horizontal.
An additional feature of the ID Stronghold wallet is the divider in the billfold area allowing you to separate large bills from small bills or receipts from everything else. Avoiding the awkward scenario of paying for a $3.50 purchase with 3 singles and a Wal-Mart receipt. In addition, this wallet gives you 7 credit card pockets, plus the ID window and the two hidden pockets, converting its additional size into storage space rather nicely.